Want some quarantine-friendly ways to enjoy art, stellar local food AND the great outdoors? Lucky for us, CapNY is filled with amazing public art! From historic architecture and neighborhoods to public art "galleries" in urban alleyways, CapNY writer Jessica Kelly found six great sites that we can enjoy all winter. Have more ideas? Send them along we'll add them to the list!
The first location is the Reflection Pool at Empire State Plaza. The pool is lined with 16 monumental mid-century sculptures by world-renowned artists such as Claes Oldenberg, Alexander Calder, Ellsworth Kelly, and more. On a gloomy winter day, these pops of movement and color can bring some happiness and perspective. Next, head into the Empire State Concourse to warm up from the frigid temperatures. There, you'll find dozens of large-scale (and some absolutely huge) paintings, and more amazing sculptures. Check out this video preview of the indoor and outdoor collections! After your explorations, I'd suggest you try a Nashville Hot Fried Chicken Sandwich from The Cuckoo's Nest. Note: Ice skating is currently closed
Did you know that Saratoga's High Rock Park is home to a memorial made of steel from the Twin Towers? The sculpture, titled "Tempered By Memory," was created by John Van Alstine and Noah Savett in 2012. The artists use the recovered materials to thoughtfully memorialize those lost in the 9/11 terrorist attacks.
After a reflective walk through High Rock Park, I highly recommend brunch at Hattie's, served 10am-2pm on Saturdays and Sundays. They have tasty Bloody Marys, warm biscuits with honey butter, and the best cheesy grits.
Love contemporary art ? Head to Art Omi! This 120-acre sculpture and architecture park is a quarantine-friendly, no-cost way to take in art and fresh air. You'll see amazing sculptures (look for the Olaf Breuning work, "Clouds," towering over 30 feet) and stunning architectural work (don't miss "Magnetic Z," by Cameron Wu). Check out this printable map to see all that Art Omi has to offer. Best of all, you can snowshoe or ski through the site! Hungry? Great! Drive 10 minutes to Saisonnier for an artisanal sandwich or cheese board. Try one or two of their craft beers. Did we mention that they have 125 craft beers available for in-house or take-out?
The amazing and powerful murals during the Black Lives Matter protests introduced me to Troy's art scene. More recently I discovered the artwork in Franklin Street Alley. Artist Joe Lurato and other local creatives developed this interactive installation. The installation is filled with painted murals and built structures. These ingeniously incorporate the existing pipes, ladders, and lights.
If you're trying to find its exact location, put the address of Dutch Utter Ice Cream Shop in your GPS, 282 River St Troy. It's the alley right next to it! After exploring, walk over to grab an order of some of the best crispy wings CapNY has to offer at The Ruck.
The Capital Walls project is an endeavor of Albany Center Gallery, Albany Barn, and Albany Parking Authority. Capital Walls has sponsored 14 colorful murals (and counting!), by local artists across downtown Albany. Grab this handy tour map before you head out. After snapping some IG photos in front of the murals, stop by Druthers Brewing Company (1053 Broadway, Albany, NY 12204) for delicious mac & cheese like their Memphis BBQ Mac with smokey, tender pulled pork, spicy jalapeño ranch coleslaw, and sweet BBQ sauce.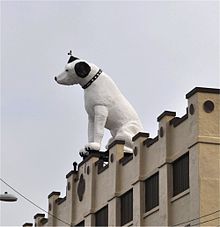 Outside of Druther's, be sure to take a peek at Nipper. This Albany icon is a four-ton, 28-foot tall steel and fiberglass painted dog atop an old concrete warehouse. It's one of the most IG worthy spots in the downtown area!
The murals are scattered, but a good place to start is at Albany Center Gallery: 488 Broadway #107, Albany, NY 12207.
Stockade Historic District
The Stockade Historic District is in the northwest corner of Schenectady, on the banks of the Mohawk River. It is the oldest neighborhood in the city, and has been continuously inhabited for over 300 years. You'll see 50 pre-Revolutionary houses in various styles that include Dutch Colonial, Georgian, Federal and Victorian along your walk. A good starting point to explore the neighborhood is 100 North Ferry St. This will bring you to the heart of the Stockade, right in front of the statue of "Lawrence the Indian."
You don't have to be a history lover to appreciate the gorgeous, unique artistic features of each of the homes. Come winter, there's and especially majestic feeling as the homes are decorated with holiday lights and pines. You can even download a self-guided tour of the neighborhood here!
Close by, you'll find Mad Jack Brewing Co., there to quench your thirst and craving for a warm bite. You can read a review by a popular CapNY food influencer, Tim Walton, here!
Written by: Jess Kelly
Jess is a journalist and photographer with a focus on food, travel, and entertainment. She's written for over 10 different local publications in New York State, in addition to the Huffington Post, Cosmopolitan, AAA Northeast, Eater, Dame Traveler, Food52, Insider, Wine Enthusiast, Kitchn, AAA World Magazine, Thrillist, and more. Follow her adventures on Instagram @Adventures.Are.Waiting.