Here are five art experiences that can be enjoyed by anyone and everyone — solo, on a date, or with your kids. Visit one at a time, or make a day trip out of it! So, get outside and enjoy the summer weather, AND support our amazing creative economy.
Summer Exploration!
After more than a year of being cooped up indoors, I'm ready to explore and experience everything CapNY has to offer — safely, of course. I've been spending all of my spring and summer weekends exploring the outdoors, hunting for public art and enjoying whatever arts scene I stumble upon and of course, am always on the lookout for a new local spots to grab a craft beer or delicious food.
Art on the Rail Trail (ART) in Albany
Perfect for: solo exploration, family fun, a daytime date
The nine-mile Albany County Helderberg-Hudson Rail Trail is perfect for walking, biking, or — my transportation mode of choice — rollerblading. I visited the trail on an absolutely gorgeous summer day and was blown away by how beautiful the scenery is! There's greenery, flowers, and river. It's a perfect spot to mix up an outdoor adventure while enjoying public art installations created by local artists. There are spots along the trail where you can see the art. Pop by and grab an Instagram pic at each!
Check out the current art installations at these locations along the Art on the Rail Trail (ART):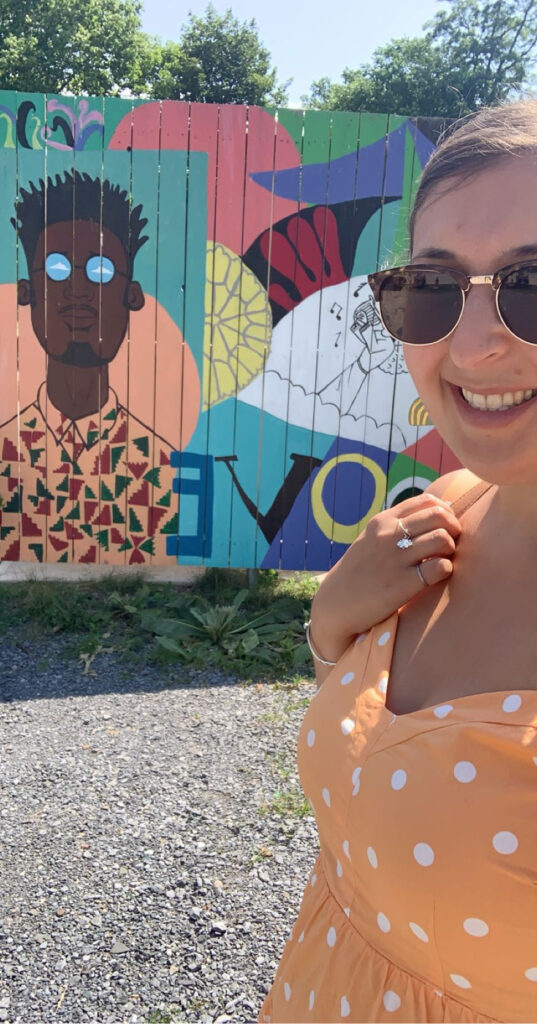 Susan Togut art installations between Main St. and Grove St. in Voorheesville (2020).
Young People's Mural at the Kenwood Ave. trailhead in Slingerlands (created 2019) — community mural designed by student Emily Meier, project work led by artist Andrea Hersh.
Angela Cuozzo's mural for Bliss Juice Bar on Delaware Ave. in Delmar (created 2019).
John DeMarco's art on the columns under the Cherry Ave. bridge in Slingerlands (created 2018).
Ramiro Davaro-Comas mural on the Rail Trail bridge crossing Delaware Ave. in Delmar (created 2018).
Andrea Hersh mural at the Adams St. Rail Trail entrance in Delmar (created 2017).
Bliss Juice Bar (stop #3 on the Trail) is a perfect place for a pick-me-up, especially on a hot day. Delicious smoothies, toasts, coffee, and more…all right off the trail! Plus, there's plenty of bike parking outside.
New York City Ballet at SPAC
Perfect for: family fun, a date
Every year, my grandmother and I see a summer ballet matinee at SPAC. This July, we're really looking forward to New York City Ballet's two 75-minute special programs –- Short Stories, hosted by Principal Dancer Maria Kowroski and All Balanchine, hosted by Principal Dancer Gonzalo Garcia. Both are excerpts from the Company's wide-ranging repertory, performed by 15 dancers accompanied by piano on SPAC's main stage. Socially distanced seating will be provided in the amphitheater and on the lawn. It's a lovely way to spend a beautiful summer's day or night with the family or on a date.
Where to eat, you ask? Before or after the show, my grandma and I usually make reservations at her favorite Saratoga restaurant, Scallions, or if we're in the mood for a smaller bite, we head to Boca Bistro for tapas and wine.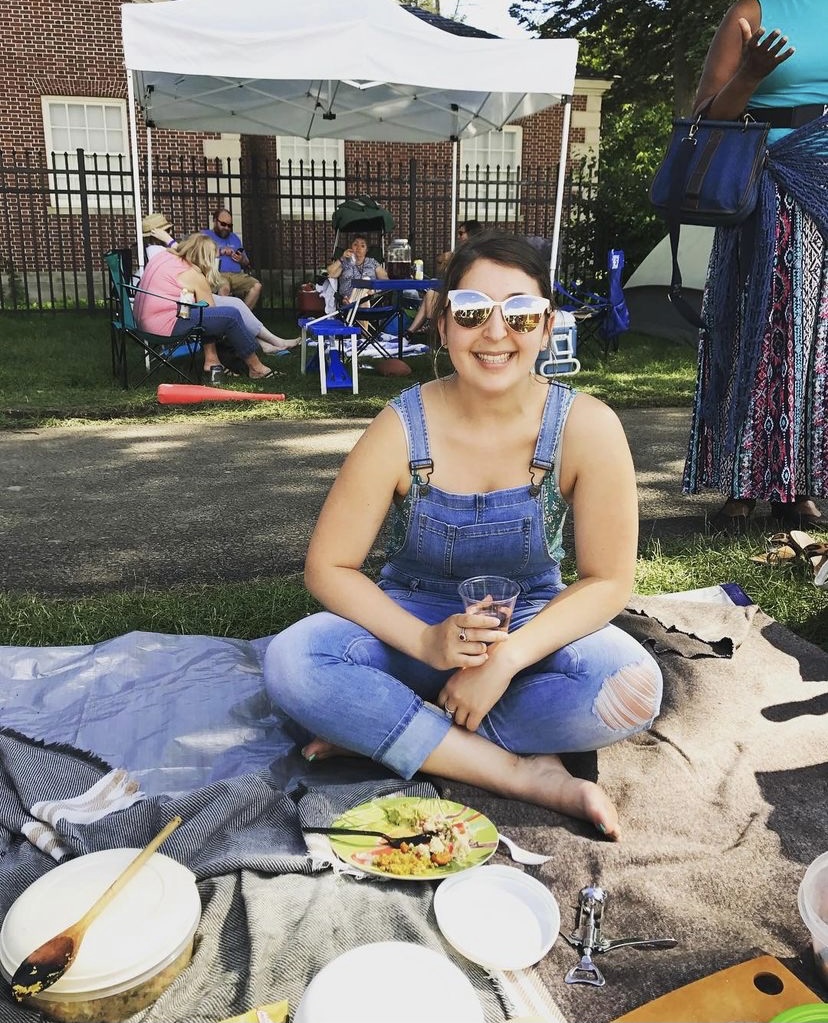 (P.S. Another one of my absolute favorite summer activities at SPAC is going to the Jazz Fest! This is another annual tradition my grandma and I have. If you haven't attended, I HIGHLY recommend the experience. It's a bit more casual than the ballet. We bring in our own food, drinks & meet up for a picnic with some other jazz-loving friends while being serenaded by world-renowned artists. It's this coming weekend, June 26-27 and there is still time to buy tickets!)
Explore Downtown Albany's Public Art Scene via CDPHP Bicycles
Perfect for: solo exploration, family fun, a day date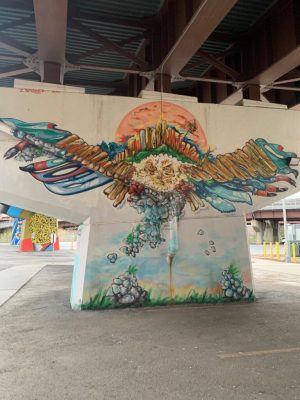 The array of public art in Downtown Albany is growing by leaps and bounds. One of my favorite initiatives is #CapitalWalls, which is a partnership between Albany Center Gallery, Albany Barn, and Albany Parking Authority. This project seeks to inspire the local community with uplifting, educational, or thought-provoking works of public art. You'll find pieces under bridges, alongside buildings, and other structures. Click here to check out the current murals and locations and rent a CDPHP cycle to take a tour of your own!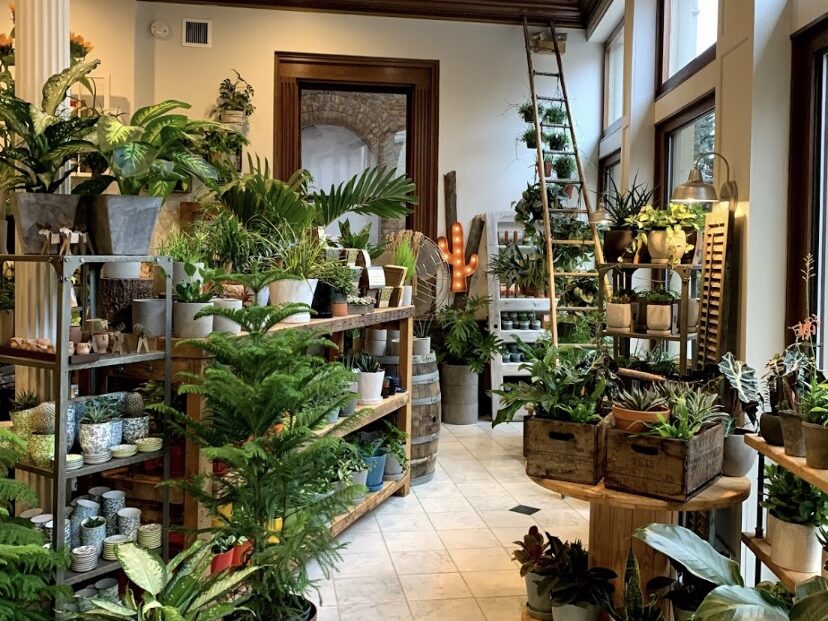 Nearby the art displays, there's SO much to explore! A few of my favorites… For a drink and/or delicious food, Loch and Quay or The Cloud Food Hall. For a cool little shop with local goods, Fort Orange Shop. Lastly, my personal favorite (because I'm an obsessed plant mom), River Garden Studio.
Cat'n Around Catskill
Perfect for: Family fun
Looking for a super fun day trip with the kids? Downtown Catskill is where it's at. For the 15th year in a row, Catskill's Historic Main Street will be lined with community member renditions of cats! Designed by different local artists, each has its own unique theme and feel. Cat'n Around Catskill will take place through September. The cats will be auctioned off at the end of the showing period and proceeds will be donated to charity.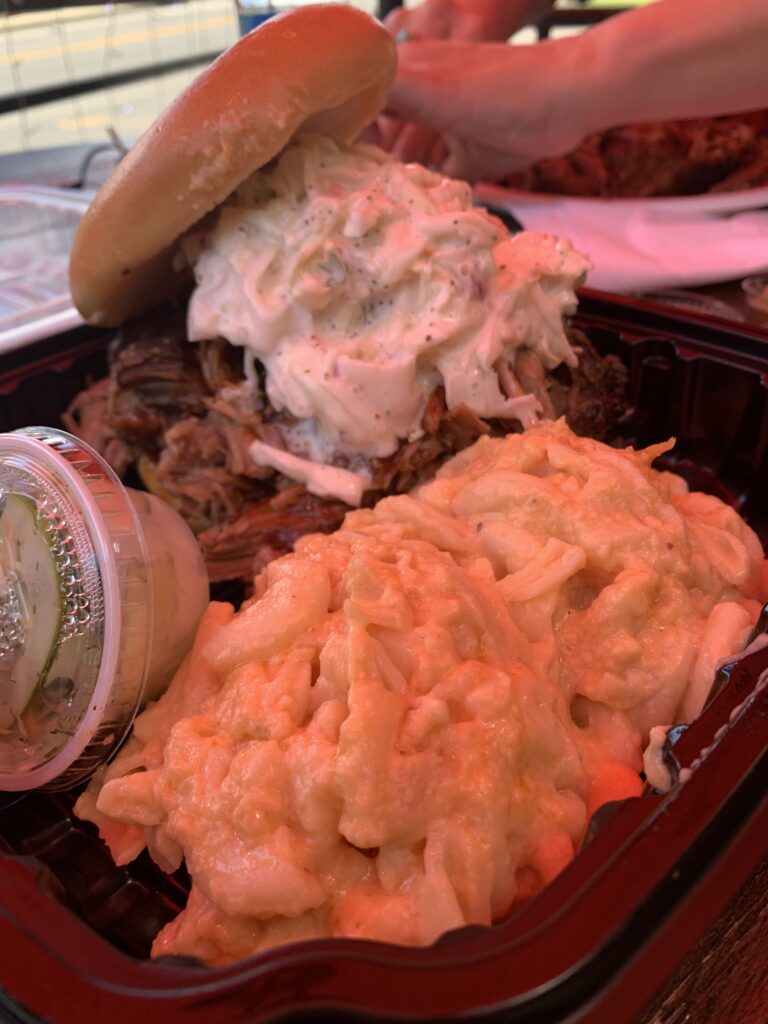 Not only is it fun to walk along Main St. to enjoy the colorful cats, but there is so much more that the area has to offer. Historic architecture and unique shops are a big draw to the area. One of my favorite shops to visit is the Mahalo Gift Shop. There is such a wide variety of creative local goods there – mostly all from women-owned businesses. It's a great place to visit with the kids too. They also have a toy shop close by!
Now I will recommend my new favorite place to eat in Catskill, and I am salivating just writing this: J&J Smokehouse BBQ. The flavors, the smells…everything about the place is just delectable. Try it out, you won't be disappointed.
Stonewall Memorial and Black Lives Matter Memorial in Downtown Schenectady
Perfect for: solo exploration, family fun, a day date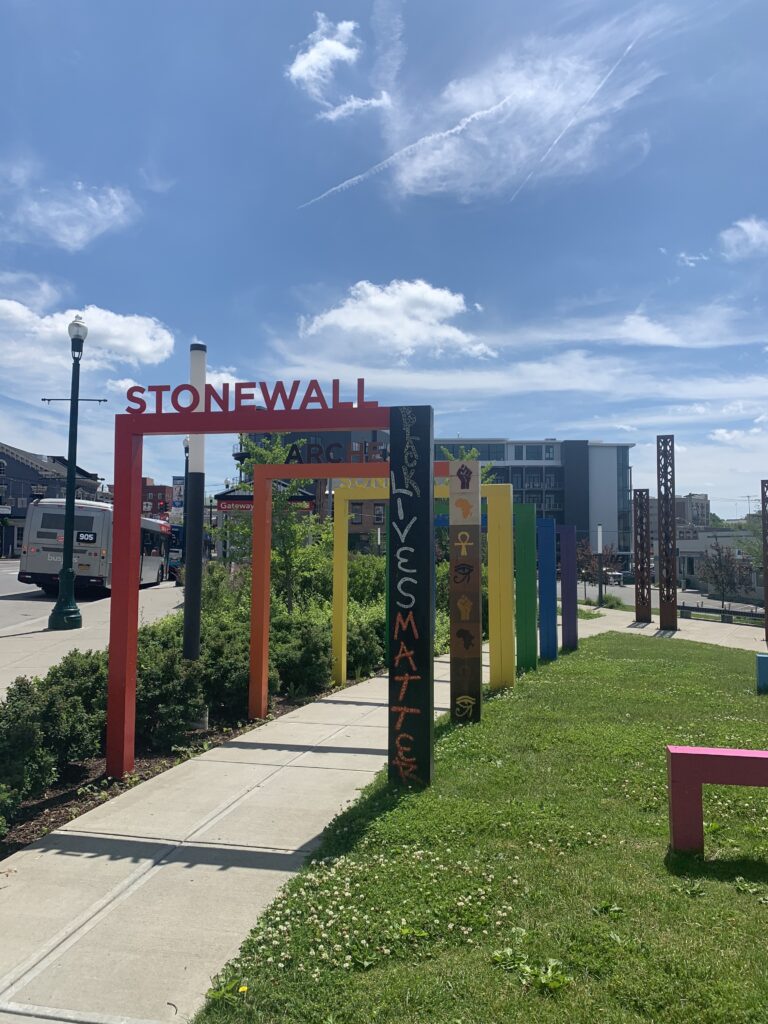 IMHO, the Stonewall Memorial Schenectady memorial/public art display doesn't get the attention it deserves. And, as June is Pride Month, there's never been a more perfect time to head to Gateway Plaza, and explore the display. The Stonewall Uprising was a milestone in the gay-rights movement. This piece beautifully memorializes the civil rights struggles of the L:GBTQ community, and shines pride brightly.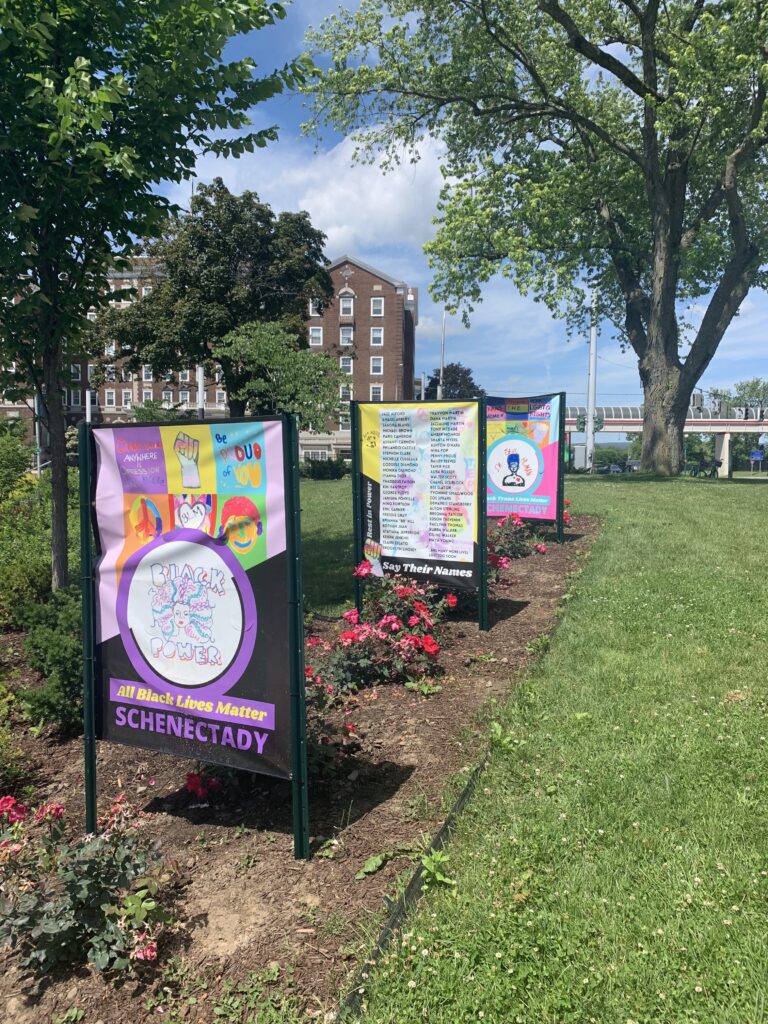 Recently, new additions were added to the park (right next to the Stonewall structure) to raise awareness of the Black Lives Matter movement. As a Schenectady resident, I'm proud of these pieces and the effort it makes to educate visitors on both Stonewall and Black Lives Matter. This park has become one of celebrating civil rights for everybody and a symbol for equality.
If you're looking for food or activities nearby, I've got you covered. One of my favorite summertime spots is Jumpin' Jacks Drive-In on the Mohawk River. It's only a few minutes away by car or bike (there are CDPHP bikes to rent right in the park). I've been going there every summer since I was a little kid.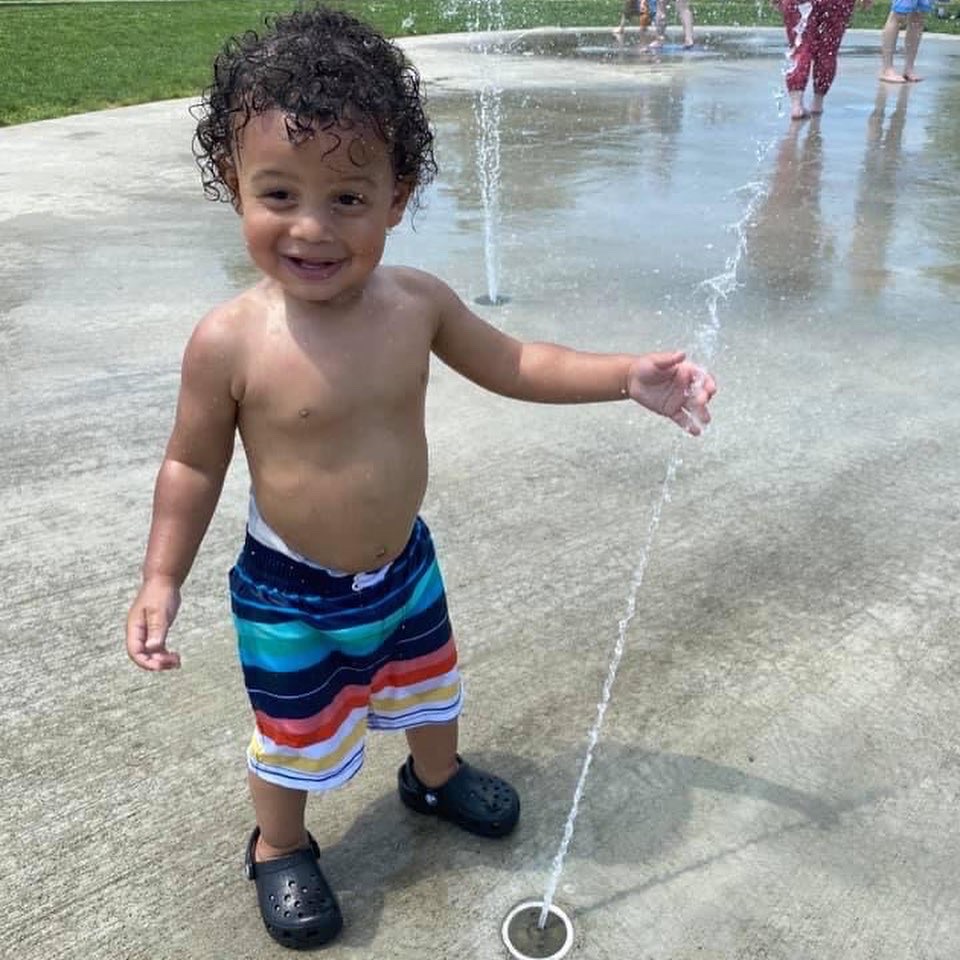 If you have the family with you, right across the street from Jumpin' Jacks is Collins Park, which has a playground, basketball courts, a splash pad and more! My nephews LOVE it.
Whether you're looking for family fun, solo exploration, or a new date spot, these five outdoors arts experiences are a great way to support our local creative economy. If there are other experiences or events we should add to the list, send me an email to let us know! Enjoy and be sure to tag us in your adventures, @gocapny! #GoCapNY!
Written by: Gabby Fisher
Gabby is a serial entrepreneur living solo with her toy poodle, Mochi, in Schenectady.